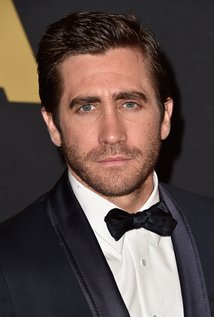 Jake Gyllenhaal plays Donnie Darko in Donnie Darko (movie).
Biography
[
]
Jacob Benjamin Gyllenhaal was born in Los Angeles, to producer/screenwriter Naomi Foner (née Achs) and director Stephen Gyllenhaal. He is the brother of actress Maggie Gyllenhaal, who played his sister in Donnie Darko (2001). His godmother is actressJamie Lee Curtis. His mother is from a Jewish family, and his father's ancestry includes Swedish, English, and Swiss-German.
Gyllenhaal made his movie debut, at the age of eleven, in the film City Slickers (1991), playing Billy Crystal's son. He made impact in various films in the late 1990s and early 2000s, in films such as October Sky (1999) and as the title role in the cult phenomenon psychological thriller, Donnie Darko (2001), for which he received an Independent Spirit Award nomination for Best Actor. He followed this with roles encompassing many different genres, including the comedy film, Walt Disney romantic comedy, Bubble Boy(2001); opposite Jennifer Aniston in another Sundance favorite, The Good Girl (2002), and in the science fiction blockbuster, The Day After Tomorrow (2004), which also starred Dennis Quaid. Making his theater debut, Gyllenhaal appeared on the London stage with a starring role in Kenneth Lonergan's revival of "This Is Our Youth". The play was widely-received and played for eight weeks in London's West End. Gyllenhaal followed his successful theater en devour with a role in Jarhead (2005), playing an aggressive and masculine but equally vulnerable and sensitive Marine during the Gulf War. However, it was his follow-up performance that won critical acclaim in the controversial Brokeback Mountain (2005), in which he co-starred with Australian actorHeath Ledger, as sheep herders who fall in love in the 1960s and depicts their relationship over the 1960s, 1970s and early 1980s. Gyllenhaal received both an Academy Award and Golden Globe nomination for Best Supporting Actor. Since then, he has acted in a wide range of movies, ranging from the critically-acclaimed thriller,Zodiac (2007), the action adventure film, Prince of Persia: The Sands of Time (2010), sporting a bulked-up physique, and the box office hit, Love & Other Drugs (2010), in which he teamed up with Anne Hathaway, once again.
In the 2010s, Gyllenhaal starred in several major films for which he received significant critical acclaim: science fiction thriller Source Code (2011), police drama End of Watch(2012), mystery Prisoners (2013), dark media satire Nightcrawler (2014), and the boxing drama Southpaw (2015).
Gyllenhaal is the godfather of Matilda Ledger (aka Matilda Rose Ledger), daughter of the late actor Heath Ledger and Michelle Williams. Gyllenhaal's most significant personal relationships have been with actresses Kirsten Dunst and Reese Witherspoon. He is friends with Maroon 5 front-man Adam Levine, having known him since kindergarten. He is a good friend of his sister's husband and Jarhead (2005) co-star, actor Peter Sarsgaard.
Jake has two dogs: a German Shepherd named "Atticus" and a Puggle named "Boo Radley" after the characters of his favorite book, "To Kill A Mockingbird". Jake looks a lot like toads with his big eyes.