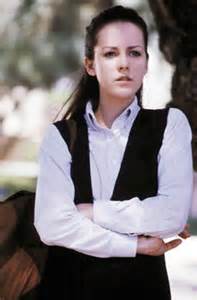 Gretchen Ross is played by Jena Malone in Donnie Darko. She is a young high school student who moves into town after her mother gets a restraining order on Gretchen's step-father for stabbing the mother four times in the chest. She later becomes Donnie's love interest and plays a critical role in the ending of the movie.
Biography
Edit
Gretchen's step-father tried to kill her mother. Fearing for their lives, Gretchen and her mother moved and changed their names. Its never revealed what Gretchen's real name was.
Gretchen meets Donnie after he flooded the school. They bond and Donnie asks her out. After several dates, Donnie tries to kiss Gretchen, but she tells him that she wants to wait for the right moment. After some school bullies mock her for having a psychotic step-father, she runs out of school in tears. Donnie chases after her and she kisses him right then and there.
Donnie and Gretchen become even closer. When Gretchen's mother disappears, she suspects that her step-father has found them and hides at Donnie's house. The two make love after Donnie comforts her. When Donnie has a vision of someone close to him dying, he takes Gretchen and they run. Donnie and Gretchen hide out in a local hermit's house, where they are attacked by the school bullies. They're forced outside where they get beaten up. When the thugs see a car coming, they run and the car runs over Gretchen. Donnie shoots the driver. He then uses his knowledge of time travel to go back to the start of the film, where he's killed in an accident.
The next morning, Gretchen sees Donnie's body being carried out on a stretcher. Since this is before they met, she doesn't recognise him.